following provincial guidelines that can maintain physical distancing of 2 metres.
(Please note: if you are feeling unwell, or think you may have come in contact with someone who has tested positive for Covid-19 .. please stay home)
Sunday Mass: Parishioner registration ONLY.  Weekdays: NO registration needed.
(Seating is assigned on first come, first served)
The church will be CLOSED after each mass.
The SHRINE area is now OPEN (social distancing is still required). Be aware that the STORE and OFFICE remain closed to public access. STORE is by appointment ONLY. Call the Office for ALL inquiries.

St. Francis Xavier Parish in Tilbury
Virtual Sunday Mass at 10:00 am.
Our Lady of the Rosary Shrine
A Hidden GEM in Southwestern Ontario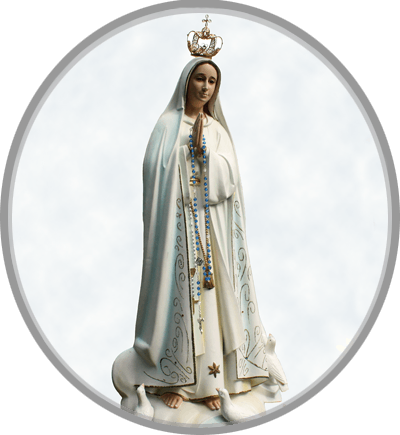 CHURCH SERVICE
SUNDAY 10 AM
WEEKDAYS
Monday / Wednesday / Friday 7 PM
(Doors open for Prayer at 6 PM)
Tuesday, Thursday, Saturday 8 AM
Rosarian Community
Rosarian Monastery in Canada since 2010. The Rosarians follow a daily monastic schedule of prayer and work — and are also available for the spiritual needs of the pilgrims.
Vatican News
One day before the  Feast Day of Saints Joachim and Anne, grandparents of Jesus, Pope Francis has established the first World Day of Grandparents and Elderly to be celebrated July 25, 2021. Pope Francis has chosen the theme to be "I am with you every day" (Mt. 28.20) to express the coseness of the Lord and Church to every elderly person; and as a topic of hope that all persons – young and old – can share together. "This is the first fruit of the Amoris Laetitia Family Year, a gift to the whole Church destined to remain over the years".
PER MARIAM ADD JESUM
Through Mary to Jesus
"Our Lady of the Rosary . . . Our Lady of Fatima ~ Pray for us"
Dear Pilgrims,
Last year we were not able to open the Shrine at all. This year we are opening the Shrine, but with limitations due to Covid-19 protocols. The July 2nd and July 13th Shrine Days have been cancelled but we will have a modified Shrine Day on July 16th.
read more
Ministries
Ways to Get Involved
STORE is by Appointment ONLY, otherwise closed to public.
Call the office 519-689-7760

St. Michael's
Gift Cabin
Call the office for inquiries!
519-689-7760
mail order available or by appointment
CONTACT US
Mail : 5773 10th Line
Merlin ON
N0P 1W0
Phone : 519-689-7760
Fax : 519-689-4788
Email : olrshrinemerlin@gmail.com
Contact Rosarians directly:
rosariansmerlin@gmail.com
OFFICE HOURS
(currently CLOSED during Covid-19)
Phone messages and e-mails are remotely tended/responded to every day!!
Store Hours:
by appointment ONLY
HOW TO FIND US
By GPS : 5773 Tenth Line Chatham-Kent
Lat N 42.27807084064792
Lon W -82.26493835449219
Exit the 401 Bloomfield Rd S. (exit 81). Turn right at Bloomfield Rd (signs for Bloomfield Rd S) 1.1 km. Turn right at 8th Line 11.1 km. Turn left at Merlin Town Line 2.8 km. Turn left at 10th Line 1.1 km
Exit 401 at Queens Line (exit 63). Sharp right at Highway 2 (Queens Line) (signs for Chatham) 6.3 km. Turn right at Merlin Town Line 7.7 km. Turn left at 10th Line 1.1 km.