Our Lady of the Rosary Shrine
A Hidden GEM in Southwestern Ontario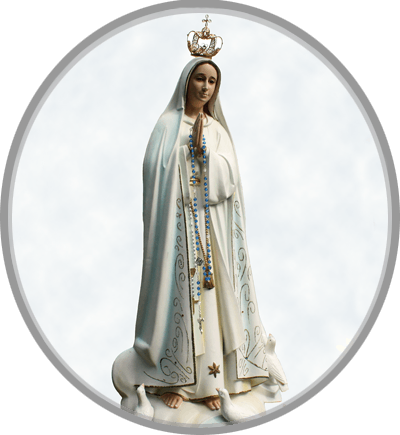 SUNDAY 10 AM
WEEKDAYS
Monday / Wednesday / Friday 7 PM
(Doors open for Prayer at 6 PM)
Tuesday, Thursday, Saturday 8 AM
(Adoration after mass)
Welcome
Our Lady of the Rosary Shrine
is served by the Rosarian Order, and open all year
for personal prayer or meditation.
Annual SHRINE DAYS:
July 2, 13, 16 | Aug 13 – 22 | Sept 12 – 15
Rosarian Community
Rosarian Monastery in Canada since 2010. The Rosarians follow a daily monastic schedule of prayer and work — and are also available for the spiritual needs of the pilgrims.
2023 Shrine Days Thanks

Greetings of love in the name of the Lord and Mother Mary.
Through this writing, we are so happy to share our joy and happiness after we have had such a very successful and prayerful Shrine Days for this year 2023. We the Rosarians wanted to take a moment to personally thank you . . .
PER MARIAM ADD JESUM
Through Mary to Jesus
"Our Lady of the Rosary . . . Our Lady of Fatima ~ Pray for us"
The funeral Mass for Archbishop Gervais, a former Auxiliary Bishop of London and Archbishop...
read more
Ministries
Ways to Get Involved
Movie Missionaries
"Canadian historical  movie release about our own Lady of the Cape"
Store hours:
Open during Shrine Days
10:00 am to 3:00 pm

St. Michael's
Gift Cabin
Call the office for inquiries!
519-689-7760
CONTACT US
Mail : 5773 10th Line
Merlin ON
N0P 1W0
Phone : 519-689-7760
Fax : 519-689-4788
Email : olrshrinemerlin@gmail.com
Contact Rosarians directly:
rosariansmerlin@gmail.com
OFFICE HOURS
(currently CLOSED)
Phone messages and e-mails are remotely tended/responded to every day!!
Store Hours:
by appointment ONLY
HOW TO FIND US
By GPS : 5773 Tenth Line Chatham-Kent
Lat N 42.27807084064792
Lon W -82.26493835449219
Exit the 401 Bloomfield Rd S. (exit 81). Turn right at Bloomfield Rd (signs for Bloomfield Rd S) 1.1 km. Turn right at 8th Line 11.1 km. Turn left at Merlin Town Line 2.8 km. Turn left at 10th Line 1.1 km
Exit 401 at Queens Line (exit 63). Sharp right at Highway 2 (Queens Line) (signs for Chatham) 6.3 km. Turn right at Merlin Town Line 7.7 km. Turn left at 10th Line 1.1 km.