PROVINCE WIDE "STAY-AT-HOME" ORDER WITH EXPANDED RESTRICTIONS
With the directive of Bishop Fabbro, ALL churches in the Diocese of London are closed to the public until further notice. The Priests of our Church will continue with the celebration of daily Mass to ensure intentions of the day, as well as for our community, can be offered.
Be aware that all SHRINE GROUNDS, CHURCH, OFFICE AND STORE AREAS remain closed to the public unless otherwise authorized.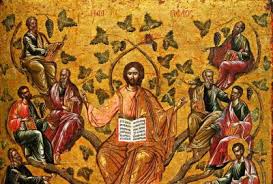 St. Francis Xavier Parish in Tilbury
Virtual Sunday Mass at 10:00 am.
Our Lady of the Rosary Shrine
A Hidden GEM in Southwestern Ontario
Rosarian Community
Rosarian Monastery in Canada since 2010. The Rosarians follow a daily monastic schedule of prayer and work — and are also available for the spiritual needs of the pilgrims.
Vatican News
Pope Francis invites Catholics and Marian Shrines around the world to dedicate the month of May to a marathon of prayer for an end to the Covid-19 pandemic.
PER MARIAM ADD JESUM
Through Mary to Jesus
"Our Lady of the Rosary . . . Our Lady of Fatima ~ Pray for us"
This afternoon, Premier Ford announced that places of worship will be locked down as of 12:01 a.m....
read more
Ministries
Ways to Get Involved

St. Michael's
Gift Cabin
(closed until further notice)
CONTACT US
Mail : 5773 10th Line
Merlin ON
N0P 1W0
Phone : 519-689-7760
Fax : 519-689-4788
Email : olrshrinemerlin@gmail.com
Contact Rosarians directly:
rosariansmerlin@gmail.com
OFFICE HOURS
(currently CLOSED during Covid-19)
Phone messages and e-mails are remotely tended/responded to every day!!
HOW TO FIND US
By GPS : 5773 Tenth Line Chatham-Kent
Lat N 42.27807084064792
Lon W -82.26493835449219
Exit the 401 Bloomfield Rd S. (exit 81). Turn right at Bloomfield Rd (signs for Bloomfield Rd S) 1.1 km. Turn right at 8th Line 11.1 km. Turn left at Merlin Town Line 2.8 km. Turn left at 10th Line 1.1 km
Exit 401 at Queens Line (exit 63). Sharp right at Highway 2 (Queens Line) (signs for Chatham) 6.3 km. Turn right at Merlin Town Line 7.7 km. Turn left at 10th Line 1.1 km.