SHRINE CLOSED to public. Office (call only Wed 9am-noon). store (mail order available or by appointment)
CHURCH OPEN for 10 AM Sunday mass (presently parishioner reservations only)
Weekday Masses:  OPEN TO ALL
Monday, Wednesday, Friday at 7 PM (Personal Prayer only at 6 PM before Mass)
Tuesday, Thursday and Saturday at 8 AM.
The church will be CLOSED after each mass.
St. Francis Sunday Mass 10am
DUE TO COVID-19 NO SHRINE DAY ACTIVITIES for 2020.
Our Lady of the Rosary Shrine
A Hidden GEM in Southwestern Ontario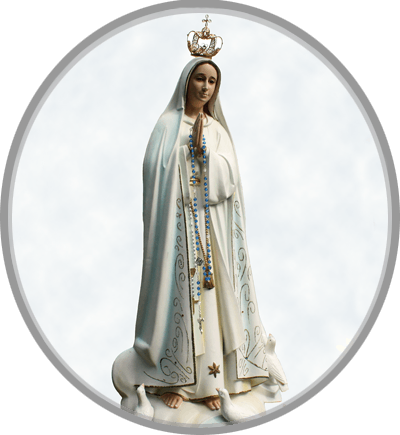 CHURCH SERVICE
Sundays 10 AM
WeekDay Masses
Monday / Wednesday / Friday 7 PM
(Doors open for Prayer at 6 PM)
Tuesday, Thursday, Saturday 8 AM
READ the RULES
Rosarian Community
Rosarian Monastery in Canada since 2010. The Rosarians follow a daily monastic schedule of prayer and work — and are also available for the spiritual needs of the pilgrims.
September 14, 2020
COVID-19 UPDATE #11
Important information to wearing a mask during mass. (APPENDIX I)
PER MARIAM ADD JESUM
Through Mary to Jesus
"Our Lady of the Rosary . . . Our Lady of Fatima ~ Pray for us"
Call the office for inquiries!
519-689-7760
*mail order available or by appointment

St. Michael's
Gift Cabin
Call the office for inquiries!
519-689-7760
mail order available or by appointment
Religious Books
Conquering Coronavirus
Celebrated author and radio host Teresa Tomeo offers here a healing balm for souls. God provides to all who seek Him in pestilential times like these–times that are, in fact, not foreign to our ancient Faith.
With Scores of emotional stories and practical weapons you can use to conquer this faceless enemy–with self reflection questions that make it perfect for group study and book clubs!
Call the office to reserve a copy! $19.99
61 Minutes to a miracle
An account of the miraculous story of the intercession of Fulton Sheen through Christ, to touch the life of a small child.
Crosses ~ Medallions
In stock
If a visitor to the Shrine would like an item that is not carried in stock, it can be ordered in for you.
FEATURED PRODUCT:
Rosary Bracelet
November is the month of the Holy Souls. This charming Rosary can be worn on the wrist, including prayers for the souls in purgatory.
$ 34.99 (plus tax/shipping)  
Spiritual DVD's
The Rosary: Spiritual Sword of Our Lady
Fr. Donald Calloway, MIC, Emmy award winner and bestselling author of Champions of the Rosary: The History and Heroes of a Spiritual Weapon, explains the power of Our Lady's favorite devotion, the rosary, in this engaging DVD based on his nationally renowned talks.
UPDATE
NEW STARTING THE WEEK OF SEPTEMBER 14TH
Starting the week of September 14th, the Church will have MASS said Daily 6.00 to 7.00 pm for personal prayer on Monday, Wednesday and Friday with mass following at 7.00 pm. On Tuesday, Thursday and Saturday the morning mass will be at 8.00am. We ask everyone to please help us out . . .
read more
CONTACT US
Mail : 5773 10th Line
Merlin ON
N0P 1W0
Phone : 519-689-7760
Fax : 519-689-4788
Email : olrshrinemerlin@gmail.com
Contact Rosarians directly:
rosariansmerlin@gmail.com
OFFICE HOURS
Wednesday: (currently during Covid-19)
9:00AM – NOON (call only)
Store Hours:
Mail order available or by appointment
HOW TO FIND US
By GPS : 5773 Tenth Line Chatham-Kent
Lat N 42.27807084064792
Lon W -82.26493835449219
Exit the 401 Bloomfield Rd S. (exit 81). Turn right at Bloomfield Rd (signs for Bloomfield Rd S) 1.1 km. Turn right at 8th Line 11.1 km. Turn left at Merlin Town Line 2.8 km. Turn left at 10th Line 1.1 km
Exit 401 at Queens Line (exit 63). Sharp right at Highway 2 (Queens Line) (signs for Chatham) 6.3 km. Turn right at Merlin Town Line 7.7 km. Turn left at 10th Line 1.1 km.